Boris Johnson
486 days ago
Having voted Tory in 2019  for which I apologise, yet again  there are so many reasons to despise the party. But its approach to Covid rule-breaking, as demonstrated by Sajid Javid, is yet another one. I think of my father's funeral, as only 30 could attend.

538 days ago
In any study, you need a control group. When it came to train-wrecking your economy, driving folks to suicide and causing untold misery through mask-wearing, social-distancing, and staying away from dying relatives, the European control group was Sweden. The MSM did the bidding of the experts and a united political class, warning that Sweden would see mass deaths and that the streets of Malmo and Stockholm would be piled high with bodies. Well, not quite, but the language was apocalyptic. Ultimately, we dissenters were wrong, and citizens should only ever "follow the science". Or else, it would end badly for us all back in Airstrip One.

608 days ago
With a hat tip to my friend Paddington – I created that nickname for him and should be getting royalties – enjoy the video below. Want to bet a fiver that Mr Rees Mogg has never heard of The Beastie Boys? 

634 days ago
Over the past few days I have shown time and again the growing mountain of hard statistical evidence that shows – as some of us have been saying for a very long time – that all the measures imposed by Government to try and control the scamdemic just do not work. Instead the collateral damage they cause ruins lives. Still the those inside the GroupThink of the media and political classes plough on, unable to admit their horrific blunders. Writing as I do, 30 yards inside Wales, once again our dear leader, the criminally insane Mr Mark Drakeford, has shown the folly of GroupThink. Consider the graph below.

639 days ago
Back in 2003,the Doom Goblin Greta Thunberg was only one. Why pluck this year from history? Simple because, as you can see below, Arctic Sea Ice is now at its greatest extent since 2003 and is on track to beat that 18 year high and head back to levels not seen since the last century. Perhaps our uber green Prime Minister, Mr Boris Johnson, might care to explain the justification of vicious, regressive, green taxes which screw the poor folks of Britain in order to fight global warming in the context of this record sea ice? Over to you Boris. You can ask a friend or even your ghastly Mrs, Carrie Antoinette, if you wish.

659 days ago
As this wretched Government in England and the even more wretched one in Wales implement more and more draconian and ludicrous policies it emerges today that there are just 10 folks across the UK in hospital with the Omicron variant, yes that is the new strain of Covid that we are told will overwhelm the NHS. Yes, that NHS  – envy of the fecking world,let's all bang pots in the street- where only 4% of beds are currently filled with Covid patients. But, of course, what we are not told is how many of the ten were admitted with Omicron or were there for some other reason and were subsequently diagnosed with Omicron.  This is madness – consider what the NSPCC says today about lockdown, something Michael Gove and most of the political and media classes are pushing for.

660 days ago
The South Africans tell us, as do US and EU authorities that the Omicron variant of covid is really not very harmful at all. And what is more they have data which supports this as you can see below. As Omicron started there the South Africans have real data. This was dismissed today by one of the doom-mongers advising our wretched Government as merely "anecdotal." But it is not, what you see below is hard facts.  What can be dismissed are claims by the experts who always get it wrong, such as Professor Pantsdown Ferguson,that 75,000 of us will die from this variant by the spring.  Ferguson has a track record of forecasting which, over many, years is unbelievably consitent. He is always wrong.  Yet Boris Johnson et al do not look at facts on the ground, hard data, they believe the"experts" who ignore this hard data and their ludicrous predictions.

667 days ago
The husband of our great leader, Carrie Antoinette, has said that he will tell us all on December 18 whether he is going to cancel Christmas or not. He says this on a day when the WHO, normally bedwetters and scaremongers themselves, confirm that across this planet nobody at all has died from the Omicron variant of Covid. In contrast 1.8 people per second die from all other causes.

674 days ago
I noted on Friday that in South Africa, where the new strain of Covid has emerged, the number of fatalities and indeed the number of hospitalisations is the same as the number of times I have shagged Cheryl Cole this week. That is to say, zero.  All viruses mutate in a Darwinian way. To ensure species survival those that are more transmissable tend to be weaker, killing the host makes no sense. But, of course, mask jihadists – which includes almost everyone at the BBC -  as well as most of the villagers where I live here in lockdown Wales, say that one must "liste to the science". I offer hard data they offer doom and say that only scientists – as opposed to those who earn a living analysing data – are allowed a view. The fanatics want the State to strangle our liberties and the economy again. So here is a doctor fighting this strain at the centre of the epidemic appearing,amazingly, on the BBC today. Watch what she has to say on the basis of hard data and take that as your cue to resist Sajid, Boris and the rest of the deranged control fascists now running Airstrip One. Watch the video quickly before Youtube removes it for being what Prince Harry would term fake news.

677 days ago
It is especially when you see the smiling face of a little kid who drowned yesterday in the channel that your heart melts. Or it should. Some of those on twitter appear to have no hearts while, for others, the important matter at hand seems to be weaponizing the deaths and playing the blame game. It is the fault of the Tories, or Labour or the Frogs and little Macron. 

687 days ago
Man-made carbon emissions are causing the world to get warmer and we must act now if we are to restrict that growth to 1.5% or 2.5% or whatever. So say the cultists after jetting back from COP26. These are, of course, the same cultists who warned us in 1988 that the Maldives would be under water by 2010, that within a few years of 2000 kids would ever see snow again, etc, etc, etc. We can discuss whether climate change – which has always happened – is caused by man made carbon emissions with reference to the Medieval warm period or the Maunder Minimum at another point although if you want to pass Geography GCSE these days such discussions are not recommended. Those who set the curriculum, the BBC, wretched Boris Johnson and others say that the science is settled so do not mention temperatures in 1200 or you are a vile denier one step removed from those operating the holocaust death camps. In that vein…

709 days ago
The BBC decided to send one of its reporters, Branwen Jeffreys, to some grim Northern town where folks were poor so that they could take the piss out of the "levelling up" programme which is one of Boris Johnson's little joke policies.  Firstly the state broadcaster showed the traditional scenes one associates with grim post industrial Northern towns such as this one, Ashington in Northumbria. And then complained that the Government was not spending enough on infrastructure to change that.

714 days ago
Today we learn the sad news that Dennis Hutchings has died aged 80. Mr Hutchings served this country for 26 years as a soldier but the "peace process" in Northern Ireland meant that he was pushed into an early grave by this wretched faux Tory Government.

724 days ago
In this podcast ona shortened work day thanks to a still stick Jayarani, I give the five reasons why I sold all my remaining MyHealthChecked (MHC) today. I look at Mercantile Ports and Logistics (MPL), Sosandar (SOS), Powerhouse Energy (PHE), Simec Atlantic Energy (SAE) – well done Peter Brailey – and finally as the economic illiteracy of Boris Johnson as the Tories screw the poor in an inflationary world they only make worse.

759 days ago
For what seems like an eternity, ever more restrictive and ludicrous rules have been imposed on us in an attempt to tackle a plague with a 99.97% survival rate on the basis that we must "follow the science." Of course that was tommyrot.

765 days ago
I have already apologised to the people of Wrexham for being one of those voting in Tory Sarah Atherton as our MP, in a seat Labour had held since 1935. If I could cast my ballot again, I would. To make amends, as Ms. Atherton serves up ever more reasons why she is unfit to be the town dog catcher let alone our MP, I shall chronicle her idiocy and sheer wretchnedness here. To make this manageable, I shall write up only her most horrific announcements. Today's tweet on Afghanistan passes the test. Gosh she is despicable.

772 days ago
Heck I would not have voted for him and warned folks he would be a disaster so don't blame me. This journalist warned that Joe Biden had failing mental facilities during the election when a fawning BBC, Channel 4 and the rest of the liberal media insisted that this was an alt-right lie and it was perfectly normal for a Presidential candidate to refuse to take any open press questions or suffer any real scrutiny.  Now folks: you reap what you sow. Afghanistan is the biggest humiliation America has faced since Vietnam. In fact it us more humiliating given the speed of the collapse from stability to helicopters on the embassy roof. And the lying by Joe Biden and others is off the scale. Surely it is worthy of impeachment, now that this is just a vehicle for political disapproval not a tool for removing a criminal President and given the relatively trivial matters that found Donald Trump, or indeed Bill Clinton, facing such an outcome?

786 days ago
The soon to be ex wife of Michel Gove, Sarah Vine, is – for reasons I have never been able to fathom – paid vast sums to serve up a weekly diet of complete bilge in the Mail on Sunday. If Mr Gove is looking for an excuse for his historic drug use, I'd suggest that having his Mrs read her column to him each week is one that would gain the sympathy of many. Today, Vine deals with Thatcher, coal and global warming prompted by Boris Johnson telling an unfunny and factually inaccurate joke last week.

838 days ago
This oppressive Government is beneath contempt. Wimbledon can go ahead with full crowds but kids are seeing school proms and parties scrapped along with sports days, end of term plays, concerts, Brownie and Scout camps, residential courses. There will be no singing or dancing at my wife's cousin's wedding as it finally goes ahead at the 4th time of asking but in pubs and stadia across the country folks will sing, dance, not just sit at tables of six as they watch the Euros. Of course, at the G7 folks broke all of the silly rules in place as VIPs can't catch covid. There is no logic in any of this, it is just mean and oppressive. And masks?

840 days ago
At first lockdown was to flatten the curve, then it was to save the NHS – the envy of the fucking world. Now it is to achieve what? To try to eradicate what is only the 30th most common cause of death. Let's go back to the NHS and a killer chart showing bed usage.

841 days ago
Having not completed an RTO within six months of becoming a shell, shares in Plutus Powergen (PPG) were suspended from the AIM sewer this morning but fear not: Charles Tatnall and James Longley have a US coal RTO "oven ready" as Lyin' Boris Johnson might say. Natch it is what is not in the release that should horrify you although that contains at least one absolutely monstrous lie.

845 days ago
The President of the United States is one of those tedious Americans who insist that they are Irish because of some distant ancestor.  No Joe, you are a yank and your romanticised and ill-informed views of what many of us call "the old country" wrecked appalling damage  and great bloodshed on the British isles for many years.

886 days ago
Gosh I miss my late uncle Chris and our hour long, weekly, chats that would just go on and on skipping from topic to topic almost seamlessly. He may have founded Private Eye but we both did the jokes. We both have a history of falling out with folks and made sure that we had no such bust ups so if we disagreed as we did just now and again there was always a workaround. So we disagreed on Brexit as he regarded me as a "no deal" hard line fruitcake and I wore that badge with honour. But rather than debate it we just agreed that Theresa May was the worst Prime Minister in history, laughed and moved on. Back in the nineties those chats would see us spending some time on Tory sleaze. You remember that MP who shared a bed with another chap and said he was doing it to save money? The jokes wrote themselves back then.

890 days ago
The woman on the left in the picture is the multimillionaire landowner who is the Tory candidate in the by election in the post industrial working class ghetto of Hartlepool. Such is the State of the Labour party that the Tories will probably win this poll. But just to make sure, this lady and the Prime Minister went to the local football club to kick a ball to show that they really understand how the working class think. So what is your caption? I shall kick off with:

890 days ago
Tomorrow sees a 23 mile training walk. It is nothing to do with the fact that the mother-in-law has just arrived but a recognition that Rogue Bloggers for Woodlarks and that 34 miles is now just 5 weeks away. Think of the pain tomorrow and please donate HERE – we are now at just under £14,000 please to give what you can afford.  In the podcast I look at the green madness of Malcolm Stacey, Boris Johnson and creepy Joe Biden and why I do not believe in any of it how I shall make money from it.  Then I discuss the scam, I exposed today, of claiming that a dual OTC listing will push share prices higher: it will not!

895 days ago
I was siting there with two middle class, university & public school educated affluent lefties discussing why the working class was abandoning Labour. One, that being the Mrs, opined that it was because they liked voting for Toffs, that is to say Boris. This was a theory of one of her colleagues in the world of sociology. The other, daughter Olaf, did not dissent. Such is the state of denial among the British left.

905 days ago
It is my late father's birthday something I consider HERE. He used to love Bearcasts especially when I was rude about folks he disliked and i am sure Green Baroness Jenny Jones would have been in that category and I know Boris Johnson was. So I discuss Dad as I head to Shipston tomorrow to bring his books and possessions up to Wales on Wednesday. Then I look at today's insane covid news and what it means for all of us.

915 days ago
The data below is from the ONS and covers England and Wales. 2020 data is provisional so maybe tweaked a bit but with that caveat you will note a couple of things. Or if you are Boris Johnson and everyone else in the political and media class GroupThink you will ignore a couple of things which show how we citizens, we Winston Smiths, have all been taken for fools. Clearly more folks died in 2020 than in the years immediately before that. Suicides were up, untreated cancer deaths were up but Covid is responsible for most of the uptick. But for those who talk of the new plague, it is not that much of an uptick is it? More critically…

920 days ago
I received a personalised letter today from a party that wants my vote in the Senedd elections on May 6. I will give you the quote then you guess whether it is from Labour led by bonkers Mark Drakeford, the Lib Dems, The Tories or the cottage burners of Plaid Cymru. Which party said it will "create 65,000 more jobs. And provide the basis for economic recovery by increasing funding for every pupil in Wales, and launching the biggest road building plan in a generation."

923 days ago
We were all told that if we got the vaccine we'd be safe so could go on our hols. That seemed a bit harsh but I played along and got the jab and promptly booked a flight to go and spend the summer at the luxury eco palace formerly known as the Greek Hovel. Then the Tories said that if I went on hols I would be fined £5,000. Yet another reason to vote Plaid Cymru in May thought I, as I cursed Boris Johnson and the evil Tories. Or maybe not.

931 days ago
It seems that I am now required, as a man, to start any article on this subject by saying how appalling the murder of Ms Everard was and how I condemn rape and sexual assault. Both should be a given but in 2021 that is not enough. As a male, I must repeat that testament of faith before being allowed to express a view.  Yesterday I explained how the reaction of my wonderful daughter Olaf in her young, metropolitan woke echo chamber was wrong but she is not the only one whose good intentions make this matter far worse.

957 days ago
I am not wildly happy about having the jab. It has not been tested on folks who, like me, have had Covid. We also do not know if there are any serious long term side effects on all sorts of patients – yes, I know that all vaccines can produce some side effects. And having already had covid, all the evidence suggests that God has already vaccinated me and so there is no need for a second dose organised by the stupidest man in the Western world, Welsh first minister Mark Drakeford. But…

960 days ago
The BBC's Panorama recognised which journalist exposed the disgraced fund manager Neil Woodford from 2015 onwards with more than 1000 articles, podcasts and videos. When I confronted Woodford at his AGM in May 2019, he signalled me out as the journalist who had been most "wrong" about him. Within 3 weeks his funds had been gated – as I predicted. Woodford made £40 million from the venture, tens of thousands of ordinary savers lost billions. I had been right while  Fleet Street blew Woodford off almost to the end. The FCA is now looking into Woodford but 20 months later the disgraced fund manager is plotting a comeback. How do we know? The Sunday Telegraph had the scoop. This is corrupt journalism that shames our profession.

965 days ago
My pal Luke Johnson has been a massive critic of the lockdown policy of Bonkers Boris Johnson but, for him at least, every cloud has a silver lining, he has managed to pick up the Curious Brew beer and cider brands for a pittance from Aquis listed Chapel Down (CDGP).

965 days ago
The Government's latest covid travel restrictions are non-sensical,smash the young and the poor disproportionately and the penalties for flouting them are offensive. Matt Hancock, you are a disgrace.

984 days ago
Add it to the list of things we must shun like knickers, bras, sand, covid itself, drinking coffee, women's hockey, dating people of colour, not dating people of colour, the film Grease, etc, etc etc. The source of this latest shocking expose is the career Euro loon Femi Oluwole. Apparently Boris Johnson has blood on his hands for insisting that covid vaccine packaging is so racist that BAME folks will refuse to take it. You could not make this stuff up.

984 days ago
As my house here in North Wales became surrounded by flood waters from the River Dee, I pointed out why those linking the rising waters to climate change or, as they used to call it, global warming, were so utterly wrong. But still they persist. Driven on by his uber-woke bird Princess Nut Nuts, our PM Boris Johnson is leading the green charge today, saying: 

991 days ago
As I explained last week, I regard it as wholly desirable that the land in which I live, by 30 yards, that is to say Wales, throws off the imperialist yolk of the English infidels and gains its independence. But that should not stop me pointing out how ridiculous some of the Welsh people have become and that nearly all of its leaders are imbeciles who are not mentally capable of running a cat's home let alone a country. Among the most ridiculous of our politicians here in Wales are those who will win my support next time, the folks from Plaid Cymru, the self-styled "Party of Wales". This organisation, founded 95 years ago, declared itself neutral in World War Two as the rest of Wales signed up to fight the evil of Hitler. That was an early sign that Plaid has a tendency to choose for its leaders, folks who are as thick as two short planks. No. That is an insult to the planks. This brings me to its leader until last year, a short plank by name and nature, Leanne Wood.

993 days ago
When you heard that Boris Johnson has been told by Princess Nut Nuts to give all NHS staff an inflation-busting pay rise, I bet you thought of poor nurses earning close to the average national wage of £26,000 and went outside at 8 PM to clap like a seal. But, of course, most of the staff the NHS employs are neither poor or nurses. Here are three vacancies going which, I am sure you will agree, will assist the fight against covid not a jot.

994 days ago
It is my birthday so the entire family became a criminal family to celebrate. I reckon it was five crimes under the new lockdown laws and with the Orwellian North Wales Police and the Orwellian West Mercia rozzers to cope with it, it is lucky we were not all arrested and deported to Australia. In order we:

995 days ago
For a dumbed down generation the rules are very simple…

998 days ago
In 2000, Dr David Viner the world-leading global warming scientist at the UEA – where they had to bodge their numbers to make their predictive graphs work – said of the near future "Children just aren't going to know what snow is." His co-conspirator in the great hoax, David Parker, at the Hadley Centre for Climate Prediction and Research in Berkshire, said ultimately, "British children could have only virtual experience of snow. Via the internet, they might wonder at polar scenes – or eventually "feel" virtual cold". So guess what I woke up to today?

1007 days ago
Death, like taxation and the sheer awfulness of Mrs Brown's Boys, is something that cannot be avoided or denied and must be confronted by all of us in the end. When you bring a child into this world, you know that one dreadful day you will have to explain to it that he or she will in the end die. It is awful and unavoidable. We all die in the end.

1016 days ago
I ask you not as an expert virologist, like Piers Morgan or Christopher Biggins, but as one who spends his working days looking at numbers and who has a simple question for the real experts.

1028 days ago
The pompous, virtue signalling, radio presenter James O'Brien this morning apologised to his listeners on LBC for suggesting that all those questioning the Covid vaccine were swivelled eyed lunatics pushing alt-right crackpot conspiracy theories. Well thank you James, now how about an apology to those of us voting for Brexit? How about you admit we were not all alt-right freaks?  Okay back to Covid.

1031 days ago
There was a telling exchange in a Downing Street press Conference this week between Jonathan Van Tam and the deputy PM Boris Johnson. The real PM, Princess Nut Nuts, was elsewhere plotting the Long march to a full green revolution. Van Tam suggested that Covid restrictions such as face nappy wearing and social distancing might need to stay in place, essentially, forever. The deputy PM said that he was not so sure about that and it might be good to get back to normal at some point. Cue frosty glances.

1032 days ago
There is a new poll out today which shows that the red wall is collapsing. A year ago in traditionally Labour seats like Wrexham, where I live, the Tories were on 48% with Labour on 39%. Now Labour leads by 47% to 41%. Of course, there are four years to the next election but MPs such as the ghastly Sarah Atherton, in these parts, should see that the writing is on the wall. Like so many folks here in Wrexham handed P45s thanks to insane lockdown policies – supported by silly Sarah –, folks like Ms Atherton will themselves be encountering a P45 in due course.

1033 days ago
"So you are an anti-vaxxer" she said to me as I dared to offer a modest dissent from the party line.  The Ministry of Truth, aka The BBC and the social media companies, are leading the charge to eradicate social media posts by wicked anti-vaxxers lest they confuse the plebs. There is even talk of specialist army units being brought in to fight this menace. In the way that, this summer, anyone who did not apologise for historic slave activities by taking a knee was deemed to be alt-right extremist who needed re-education, anti vaxxers must now be insulted and, once suitably demonised in the eyes of the population, purged.

1039 days ago
As the lockdown in England ends a new lockdown based on tiers begins with Boris Johnson insisting that all restrictions implemented will stop the spread of Coronavirus. The man is mad…

1044 days ago
Boris Johnson, Princess Nut Nuts, Rishi Sunak and Matt Hancock all need to watch this video as you have forgotten what capitalism and freedom of speech really means. As for students attending the Marxist Madrassas we used to call Universities, this should be compulsory viewing. From 1977 the great William Buckley interviews the greatest… Margaret Thatcher, a woman who understood why all freedoms were so vital.

1047 days ago
Britain is more or less bankrupt. The national debt is more than two trillion pounds, that is to say more than 100% of GDP. And as every day goes by that debt gets bigger and bigger. And thus the discussions that Tory ministers are having behind closed doors is not whether they will stiff we plebs with tax rises but how they will stiff us. Against that backdrop Boris Johnson has today announced that, at a cost of £4 billion, the UK is to buy extra warships to make it the greatest naval power in Europe. Once again Boris Johnson thinks he walks in the footsteps of Churchill.

1076 days ago
If you have actually looked at scientific studies, at facts, at hard data, you will by now be convinced that wearing masks will not stop you either catching or spreading Coronavirus. But folks find all sorts of reasons for not actually studying the data as I discovered when discussing my father's funeral with the vicar and a sister. I am still unspeakably angry with Boris Johnson and Matt Hancock for the way we must tell people they cannot be with his family next week. But it seems the vicar and at least one sister goes along with the GroupThink.  Among their arguments for not only wearing a muzzle themselves but also for being cross with we refuseniks were:

1097 days ago
One would have thought that with all those Oxford PPE graduates in Government, someone would have done a paper on logic and spotted that nothing makes sense.  But it seems not. Dear cabinet members, you are transported in time and are back in Schools and once again sitting Prelims and here is question one on the logic paper.

1105 days ago
There is no empirical evidence for the raft of civil liberties crushing and economy wrecking measures Boris Johnson announced yesterday but yet folks still want more. A YouGov poll showed 13% of us thought Boris had gone too far, 32% thought he had it about right but 45% wanted more restrictions, saying that the most illiberal Government in modern British Government had not gone far enough. Cripes, as Boris might say. Why am I not surprised?

1109 days ago
The announcement that Boris Johnson wanted to introduce Covid Marshals was seen by many of us that, combined with lockdowns, curfews and compulsory face nappy wearing, the Tory party had stopped caring about civil liberties and freedom. Rather Dim Tory MP Simon Hoare then confirmed this with his historically illiterate attack on those of us who do believe in freedom.  But today it got worse.

1110 days ago
Since the start of lockdown, the number of Brits under the age of 60 with no known underlying health conditions who have died within 28 days of testing positive of Covid is just 307. In other words, the number of folks who actually had no underlying heath condition and actually died of Covid while under 60 is far lower. In the same period, UK total deaths were more than 300,000.

1112 days ago
And so Uncle Johnny was set to fly back to Covid Britain. His departure was uneventful; we waved goodbye to him as he donned his face nappy outside Kalamata's small airport and our thoughts turned to our own return a week later.

1191 days ago
I start with the economy and the idea of Michael Gove and Boris Johnson that somehow FDR shows us the way out of this mess they have created. Sure,conscript all the snowflakes, after they have finished their degrees in media and gender studies and send them to invade Albania. It sort of worked in 1939. Seriously, this is more madness. Then I look at the nature of fraud and our failure to tackle it ref Wirecast, Blur and auditor EY now being sued by 1,000 cockwomble investors who "thought they knew better."

1205 days ago
In this wild and whacky year do you remember back to the early days of the Coronavirus crisis when we were told that we all needed to rally round to give the NHS 30,000 ventilators to stiop everyone dying? It was one of those many moments when Boris Johnson thought he was Winston Churchill. Instead of little ships summoned to the beaches of Dunkirk it was little businesses across the land summoned to make ventilators to save the fecking NHS.

1275 days ago
So the Prime Minister had to go to hospital as his recovery from Coronavirus is not progressing as planned. The reaction on twitter was sad and predictable. This tweet below from a chap whose emoji indicates membership of the American Socialist party, being just one example. Once again humanity does not always show itself in the best light.

1464 days ago
However bad our leaders are in this country, my colleague Darren Atwater cannot truly laugh as he is Canadian. And the Canadian PM, Justin Trudeau is a truly pathetic figure. His attempts to dance Indian style made Theresa May's dancing Queen seem kind of cool. Perhaps more importantly he has helped to train wreck the economy, is mired in corruption scandals and is the crown prince of "high woke". Seriously, Titantia McGrath could not compete with a chap who wore Happy Eid socks to the LGBT parade. Oddly, and for reasons I cannot quite put my finger on, Justin did not wear LGBT socks to the Eid celebrations.  There are allegations of sexual harassment against Justin but none of this matters to the liberal media because he is just so incredibly woke. Justin can get away with anything.

1492 days ago
Boris Johnson is a Nazi. A bill to scrap the German Parliament in 1933 is the same as Boris reducing the current session of Parliament by 4 working days via a well established legal process. Do not laugh at Carol Hedges. Pity her. She is ill with a very severe case of Brexit Derangement Syndrome. Get well soon Carol.

1492 days ago
With the hashtag #FBPE on her twitter account poor Susan Scarrott was always likely to be struck down with a severe case of BDS. Pity Susan for she is ill. She does not compare Boris Johnson to Adolf Hitler but to Josef Goebbels. 

1547 days ago
The deal here in Wales, as it was in Bristol, is that the Mrs works full time filling the heads of impressionable young folk with left wing nonsense, Joshua goes to nursery two and a half days a week and I look after him the rest of the time. But until today I had somehow managed to avoid going to the young mums play group in our village. Today I made my debut.

1556 days ago
In this podcast I reflect on the birth of my daughter Olaf (Olivia) at just 26 weeks, weighing 1lb 4 oz all those years ago as she turns 18 today. I look at Boris Johnson's proposed stamp duty bribe and why it is wrong at every level. I answer the questions I raised yesterday, about Chris Oil's share trading in Union Jack Oil (UJO) and I discuss the "news" (it won';t be to you dear listeners!) that Neil Woodford's Equity Income Fund is being gated for a lot longer than the first announced 28 days.

1598 days ago
As I am often abroad at election time I organise a permanent postal vote. Thus from Bristol in the South west region my ballot paper arrives and has been filled in ( and posted0 as you can see below. It is a treble pleasure.

1713 days ago
Make sure your kids do not listen to this podcast. Today I cover the latest bonkers idea from Malcolm Stacey, NetFlix (NFLX), tesla (TSLA), IQE (IQE), Dods (DODS), Flybe (FLYB) and Totally (TLY). I also explain why I am even more of a f*cking feminist than before, as of today.

1765 days ago
And so to day two of the olive harvest. We merry band of three all have our jobs. As you can see below, Shareprophets reader Bernard really is wearing shorts and a T shirt as, during the day it is hot enough to do so. He trained as an engineer and so, naturally, he is the twerker specialist.

1879 days ago
This is not hard. Simply name the odd one out and why in the comments section below....

1999 days ago
Please do not get me wrong, the Shadow Home Secretary is very stupid and wrong on almost every issue going. As a type 2 diabetic myself I cannot forgive her for using her diabetes as a reason to dodge the heat of an election campaign, it gives the wider population a bad impression of her fellow sufferers. But this morning on the radio the old bag was being interviewed and I said to myself "spot on Comrade." I never thought I'd find myself saying that.

2020 days ago
He gets a tough question and the man sacked as a journalist for making up a quote but who is now our Foreign Secretary replies in Latin with an apposite quote from Tacitus and we are all supposed to think how jolly clever is Boris. But then he says the dumbest of things...

2094 days ago
The Mail on Sunday headline says it all " Brexit fears are diverting cash from vital cancer battle say drug firms." That sod Boris Johnson and the witch Priti Patel - now they are causing more cancer patients to die. Bastards! Er....

2492 days ago
I am so tired. As soon as I press "publish" on this article i am off to bed. Today there was no break other than 20 minutes for lunch and so I did a solid six and a half hours. It is not that I am spectacularly unfit (cue jokes from health guru Paul Scott), it is just that I have to try to keep pace with hardened professionals, viz George the Albanian and his two female assistants. Boris Johnson likes riding bicycles but he would be some way off the pace in the Tour de France. It is similar here.

2545 days ago
The hypocrisy of Western leaders claiming the moral high ground in Syria, given what is happening in Yemen is truly nauseating. Boris Johnson Je t'accuse. In Syria there is more talk of upping the ante. This might just risk World War Three and that is not desirable. Moreover at a military and moral level what is proposed is quite simply wrong.

2588 days ago
Last week the Americans held a press conference in Turkey in which the USA warned the brave Kurds (its ally) to stop besieging an ISIS held town of Jarablus and to allow the tanks of the fascist President Erdogan to cross the border to take control. That was bad enough but what followed has been far worse and our media, notably the BBC, has done nothing in the face of Orwellian lies and betrayal.

2629 days ago
When poor Jo Cox, the late Labour MP for somewhere Grim in the North was murdered the British Liberal media did their utomost to pin the ghastly crime to the Brexit campaign. So what if the killer had spent ages in an asylum was on medication and called social services in a right old state the day before? That did not matter. Not once was the phrase "lone wolf" used. If the liberals could not link him directly to Brexit it was enough to find a few posters erected several hundred miles away by UKIP and Leave or a few harsh words from Boris Johnson and claim these "turned the poor chap".

2636 days ago
Somehow I managed to work out how to tune my father's TV onto the BBC News Channel. Newsnight had been too busy bashing the Tories to give more than a brief mention to a story that broke before it went on air and which now leaves almost 80 people lying dead in France. Sof dozens of dead froggies, lets remind ourselves again how across the world liberal media pundits think Boris Johnson is frightful. The interweb was miles ahead of the Beeb's flagship show once again but over on the news channel there was now full coverage.

I went to sleep at 1.30 AM by which time the BBC had at least accepted that it was not an accident ( circa midnight) and was most definitely a terrorist attack. Jeepers you don't say. One Belgian terrorism expert had stated the bleeding obvious that it was an attack by ISIS but the BBC itself was making no such claims instead insisting that we have no idea who was responsible.

Hmmm. The wicked Jews? 

2651 days ago
It does not matter who gets to lead the Tory party. Hitman Boris Johnson may be out of the race but his pal Michael Gove is in and it looks as if it is neck and neck between the Gover or Euro traitor and Sharia law in Britain supporter Theresa May. Theresa, don't have my arm chopped off for saying this but here's hoping it is Gove. But it does not matter. Seriously the Tories could pick Roy Hodgson as their leader or even bring back Dodgy Dave and they would still win the next election

We loyalists who joined the People's Party last summer to help get Comrade Corbyn elected have done a sterlintg job as it appears that within a year of us manning the barricades in fraternal solidarity with our comrade workers, the Labour party may either split in two or plausibly oust comrade Corbyn and engage in fratricide. It is all a very entertaining summer panto.

Earlier today

2652 days ago
Oh dear, all those posh kids who were too thick to do anything else and ended up working at upmarket London Estate Agents Foxtons are going to get fired. It is almost P45 time for the young toffs as a dreadful profits warning is out today which, utterly unfairly, blames Brexit. Bloody Boris Johnson. He's not only screwed half the woman in London now he's fucked Foxton's too. The rotter.

2654 days ago
A lot of Tory MP's do not like or are jealous of Boris Johnson and are said to be plotting to do anything they can to stop him being their next leader. The trouble is that he is by far and away the most popular Tory in both the wider party and also the country. He is box office. Being a Brexiteer means that he was on the side of the 52% but also of the vast majority of Tory members. So if among MPs he is in the top two in the initial poll, then Tory members are bound to vote for him.

That is not only because Boris has sex appeal but because there is no other credible candidate which almost guarantees him a top two slot. Theresa May has no personality and backed Remain - the losing side - and did so in a cowardly fashion yet she is seen as the leading challenger to Boris. George Osborne still thinks

2657 days ago
From last night's debate the speech that set the thing alight. Forget the smears, forget the lies, forget Project Fear, just have faith in yourself and in your fellow Britons, you must surely vote Leave tomorrow. Watch this and can you disagree?

2693 days ago
I had rather forgotten about Michael Heseltine, the man who stabbed Lady Thatcher in the back, but apparently the old egomaniac is still alive and today weighed into the Brexit debate saying that Boris Johnson was a reckless man and that we should all vote to stay in. 

Before anyone takes the old fool too seriously on the EU you might ask

2696 days ago
Looking at twitter I see folks aghast that Boris Johnson has compared the EU to Hitler. How dare Bojo link Brussells to white supremacism and killing Jews? You think I am kidding? Here you go:
@PritaBardhan
EU to Hitler? So is #BorisJohnson saying that a body of countries is a white supremacist thug & committing genocide?

Er no Prita Boris is saying nothing of the sort. Tactic one of Project Fear or is that Project Smear is to take what we Brexiteers say totally out of context. Here is what Bojo actually said:

2698 days ago
Jumped up Canadian pipsqueak Mark Carney, the grotesquely overpaid Governor of the Bank of England has again intervened in the Brexit debate but this begs the question, which Mark Carney was lying? I bring you two quotes; 

2717 days ago
If something good happens to the economy Dodgy Dave Cameron and team Project Fear tell us that it is thanks to the EU. If something bad happens it is down to fear of Brexit on June 23. And the media just laps up the lies. That brings us to unemployment in the UK which rose in March by 21,000 to 1.7 million. 31 million folks are in work. The increase is therefore just over 0.05% of the workforce , in other words tiny and possibly even seasonal to some degree, but the press bought the line that it was down to businesses not investing in jobs on Brexit fears.

One or two journalists had the decency to add that it might also have been caused at least in bit by the world economy slowing. But they clearly did not think that one through did they?

Yes the world economy is slowing so we saw poor jobs news from across the globe last month with China alone announcing that six million state workers in coal and iron and elsewhere were going to get P45s. In the US the unemployment rate rose from 4.9% to 5%. And those were the brightspots. In Brazil and most of the EU the P45s were flying.
So I put it to you: unemployment is increasing in the US, Brazil and China (as well as in the zombie Eurozone), is that because:

2721 days ago
Carefully planted in the Daily Mail is this little gem from Project Fear: "Don't believe that nasty Boris Johnson...if you vote to leave the EU, the mad Islamofascist nutters of ISIS will be celebrating". Yes that is right, ISIS are backing the out campaign. What cobblers.

This story, dreamed up by Project Fear and served up by the pliant Mail, which has a ghoulish fascination with ISIS and folks having their heads chopped off, centres on claims made by Aimen Dean who used to be in Al Qaeda before becoming a British spy on ISIS. Apparently his cover was blown in 2006 but despite that he claims to know that:

ISIS is planning an attack on Britain (I think we all know that) in order to convince us to leave the EU and when we do the brothers in downtown Raqqa will be celebrating as this marks the start of the break up of Europe or, what Dean terms, the successor to the Roman Empire which fought Muslims for control between the 7th and 11th centuries.

It is hard to know where to start

2723 days ago
Stephen Kinnock has never really had a proper job outside the political world apart from a few months with the British Council. Daddy led the Labour Party to defeat then became a European Commissioner. Mummy was an MEP. His Mrs was PM of Denmark stating that her whole family lived in high tax socialist Denmark. Only that Stephen actually paid (very low) taxes in Switzerland where he worked. The establishment investigated and the establishment said that its own had done nothing wrong. Jolly good show.

3503 days ago
This photo cropped up somewhere on the internet of Phil the Greek and our beloved leader David Cameron. It is just too good to pass up on. And so please go ahead and post suitable captions in the comments section below. The deadline for entries is Friday afternoon and a Maribelle's voucher goes to the winner
For what it is worth my entry is: 

3803 days ago
It took me 80 minutes to get from Chancery Lane to Upton Park. Boris Johnson I blame you. You knew that there was a fixture at The Academy today almost a year ago. Yet you scheduled repairs across the network today. It was 40 minutes before I got to Bethnal Green at which point I was told that Mile End was closed. Panicked I shared a £15 mini cab to Green Street.
Getting home was an equal mess. The District Line stopped at West Ham and so after waiting 15 minutes to wade through crowds at West Ham it was the Jubilee line to Green Park and a Victoria line to Kings Cross. What a tedious mess. And there were other games in the Capital as well today. Could you not schedule works for four weeks' time when the football season is over and no-one in their right mind would be heading to Upton Park?
Oh cripes. Jeepers. We did not think of that. Jeepers again.

3876 days ago
Like all politicians Boris Johnson likes signing off on big grandiose projects. He looks good at the opening ceremony. The ego is swollen. And heck he is not paying. I have noted before (here ) how BoJo has rather lost the plot in advocating that a bankrupt Government swells its deficit for "capital projects". So far the Labour party has rejected his leadership application. But now in small detail we see one of Bojo's little "capital projects" for London unravelling in a most embarrassing fashion
I refer to the £60 million cable car which links the Greenwich Peninsular to the Excel Centre. It was promised that this obvious folly would be self-funding thanks to passenger fares. Oh dear. Check out the graph below. It does not seem like many folks are using it. And apparently it is now pissing away £50,000 a week of taxpayers' money off to money heaven.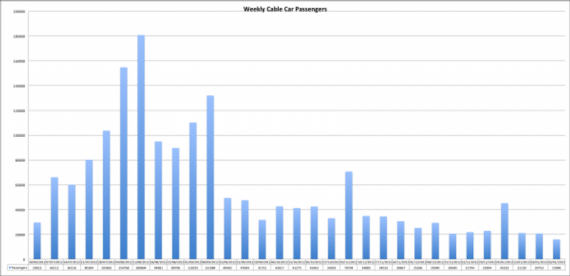 So who will rescue BoJo? Well it is unlikely to be his non-pal Call Me Dave. Who likes pissing away cash big time? Yes, of course. Someone once said:
The EU budget will never be properly policed because the cash doesn't properly belong to any nation — it belongs to "everybody". And since it belongs to everybody, each individual country cynically reasons that there isn't that much harm if its own citizens quietly loot as much of it as they reasonably can."
Very wise. Who was that? Oh.. A Mr Boris Johnson. And so later this year Bojo will be picking up a cheque for £8 million from the European Regional Development Fund. Bingo. Happy days. How exactly does this encourage sustainable development? Er… as Boris would say…cripes..that's a bit of a beastly question. You stinker."
It is simply another white elephant conceived by a vain politician being bailed out with taxpayers cash. Well done Boris. What with your new found love for the EU you become an ever more credible party leader every day. That is of the Labour party.

3893 days ago
This article first appeared in my bi-weekly Tomograph newsletter just over a week ago, but perhaps merits a wider audience. To receive this weekly newsletter with exclusive articles on hot shares, investment and economics plus links to all my articles on 10 US and UK websites click HERE. The London Mayor wants to be the next leader of the Conservative party. He cannot hide his naked ambition. And as such Boris is now issuing populist press releases or sending out messages he thinks will win votes via fawning journalists at every opportunity. His latest effort was just pitiful.
I am not a fan of Call Me Dave. I do not really care which of these two chancers leads the Tory party as neither has done a proper job in their life and – as far as I can see – neither has a Scooby Doo about how to solve the UK's problems.

3902 days ago
Just a reminder that my Tomograph Newsletter goes out bi-weekly with its Weekend edition set to go out on Saturday
And of course the Wednesday edition is the only way to get an alert to my free share tip of the week.
Tomorrow's issue has two exclusive new articles: Boris – you've lost the plot & the sinking ship of Welfare madness.
Plus there will be links to all the stories published this week and a other bits and bobs
The only way to get all of that is to
REGISTER HERE
Planned delivery time is Saturday afternoon.
Tom

3946 days ago
I am back with my family in Warwickshire. Being deluded lefties they appear to only get two channels, Pravda One and Pravda 2 and so on the latter I have just found myself watching Newsnight debate the great European question. It was a slam dunk win for the team of Nigel Farage, Terry Smith and a sensible woman from the No campaign in Norway. The only good thing that can be said for the yes side is that their blonde bird talked utter rubbish but was quite fit. That really is it.
The arguments for staying in were utterly spurious. Is Spain really going to kick out the 400,000 Brits living on the Costa del Crime if we quit? Really? Crash the housing market even more. It is not as if those folks take any local jobs they just spend money there. That is rather different to the 27 million Bulgarians and Rumanians who come 2014 can come to the UK to work, claim benefits and use the NHS. Do we really think then Britain is a huge net importer from the EU that the Evil Empire would defy WTO agreements and try to put tariffs on British goods? It is just plain rubbish.
Boris Johnson's idea that we can stay in the Evil Empire but opt out of CAP, fisheries and anything else we please is spurious.

4012 days ago
There is little to be said about the match. It was a great atmosphere. Arsenal took their chances. West Ham did not. West Ham were not completely outplayed and – at times – were on a par. Why Fat Sam replaced Vaz Te with Taylor and not Yossi defies belief. That could have made a game of it. But the better side won.
Naturally a London Derby is going to cause high volume tube traffic. So why the hell, Mr Mayor, did you schedule major repairs on the District line and block off sections of the Hammersmith & City on a match day? You promised that post Olympics the tube would run smoothly. Well I guess that was a Nick Clegg sort of promise. You git.
Getting from Liverpool Street to Upton Park is normally one change

4084 days ago
In the week that Londoners get to a) have their lives wrecked by the Olympics, b) get to see celebs whizzing past in their special limo lanes, c) become the bull's-eye target for Al Qaeda and d) start to work out how much this is all going to cost, our caption contest can only feature one of those responsible. Cripes. Blimey. Jeepers.
It is shagalong with Mayor Boris Johnson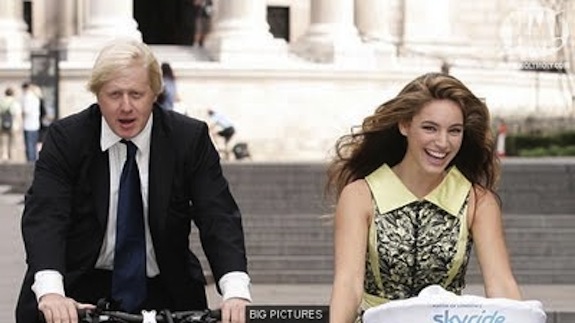 My entry is